Be sure to check these links to pages on this website that you will need:
Project Categories at the Regional Fair
Students entering the fair complete a project in one of the following categories. Click on the category name for a detailed description.
Types of Projects
Experiment: A project of this nature involves an original scientific experiment to test a specific hypothesis in which the student recognizes and controls all significant competing variables and demonstrates collection, analysis, and presentation of data.
Study: A study includes a collection and analysis of data (available from other sources) to reveal evidence of a fact or a situation of scientific interest. It could include a study of cause and effect relationships involving ecological, social, political or economic considerations or theoretical investigations of scientific data.
Innovation: Innovation projects involve the development and evaluation of innovative devices, models, techniques or approaches in fields such as technology, engineering, or computers (both hardware and software).
Safety and Ethics
All projects are subject to specific Safety and Ethics rules that are set by Youth Science Canada. The rules and regulations are particularly important for any project that involves human or animal subjects, firearms, hazardous materials or DNA. These policies should be reviewed and the student should ensure that the project meets all policy rules to be eligible for participation in the science fair. Failure to meet these policies will prevent you from participation in the science fair. Please review these regulations very carefully before the day-of-fair.
Click on the appropriate link at the top of this page for more information --> Safety and/or Ethics
Project Displays
All participants should review the complete requirements related to safety in projects found by clicking on the link at the top of this page --> Safety
ProjectBoard (Online)
Students will use the online ProjectBoard platform to present their work on their projects, both for judging and for public viewing.  ProjectBoard can be accessed at https://mystemspace.ca/.  Click on "I have a project" to create an account.  You can also access a ProjectBoard workspace from within the YSC Portal as part of your registration for FLASF.  ProjectBoard provides a standardized template to post all project information.  Click here for detailed instructions.
Judging will be done based on both the ProjectBoard information and judging interviews with the student(s).  The deadline to enter all information into ProjectBoard is end-of-day Sunday, March 19, 2023. Judges will review the ProjectBoard information ahead of the fair, from March 20-29, 2023.  In-person judging interviews will occur during the fair on Thursday, March 30, 2023.
Display Boards (At the fair)
Students will copy and paste information from several sections in the ProjectBoard template for posting on a three-section cardboard display board for use at the in-person science fair.  This physical display will be useful when students are answering questions about their work and to showcase their projects to other students and members of the public who have not viewed the projects in ProjectBoard.  Students may work on their display boards until they bring them to the fair on March 30, 2023.
Below are two suggested layouts for the information from ProjectBoard to be printed and displayed on a 3-sided display board.  The printed information should be general in nature, with photographs to show what was done, and a few sample graphs or charts to summarize the results.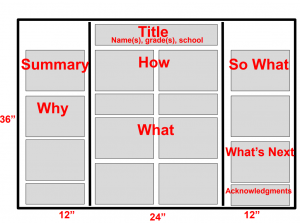 Note that a separate written report is not required.
Contact Us:
If you have any questions about your pre-fair report or project, ask the student coordinator at students<at>flasf.on.ca
For a complete list of FLASF contacts, see Contact Us